Just as we were packing the kayaks I heard the cute squidgy sound and looked up to see vibrant green barreling overhead in a volley up to the steps at the end of our street. Where there is a bower in the bushes, blue plastic from fizzy CO2 and cooking propane in a tempting trail leading to what to me looks like a wicker bird from a craft nation flag. Only not creepy. Cool and a bit sexy. Pegs. Bottle tops. Mmm.
Now the whole body is a bit sore. Not too bad. I have been looking at kayaks for some time now, dating back to the time we went to Mallacoota and tried the Hobie kayaks with the foot-powered turtle paddles. They are certainly interesting but I think I'd screw up the paddles pretty quickly. Also, they are bricks when you're not paddling. So if you need to steer with a hand paddle for some reason forget it. All this is fine, I'd say, if you're not going to fish in shallow water, and there is little seagrass or other aquatic vegetation, and you want to pump leg more than arm.
When I decided on a "pathway to retirement" I noted this as necessary equipment for living rural, along with chainsaw (check), trailer (check), ute (uh, not quite), and, oh, a house (don't get me started). Some of these items are worth a little sketch on their own—three-phase solar, electric car, Cathy's kiln—to which I may or may not get around. My mate Tim and I have been talking for some time about the seagrass beds just off Yanakie, and a couple of bits of Shallow Inlet, as places to explore for sustainable flathead and King George whiting. Or to find them not, just be. You could do these with an aluminium boat with two stroke outboard and hard spiked anchor; you could also drift in a 4.3m fishing "sit on top" kayak, silently dangling soft lure among twice as many species of seabirds I can identify and above starfish and flounder and rays and cunjevoi, and that "lungs of the bay" seagrass. All of which of course is good for you old body, too.
It will also be a doddle to launch from Toora, where we used to live, by the milk plant where our father assaulted his boss and got fired, by the garage where he cooked roo in a caldron, by the tadpole drain I followed to the sea, and where there are also seagrass shallows surrounding the boat ramp and an area called Swan Bay, for obvious reasons if you have ever seen a ragged V (a "glide"? a "skein"?) slitting a dawn surface there. Just toward the channel we have set off at dawn and found ourselves in fog and in the still grew aware that dolphins had surrounded us. I have a picture somewhere of this, but you'll have to make do with dawn on another day, near Yanakie.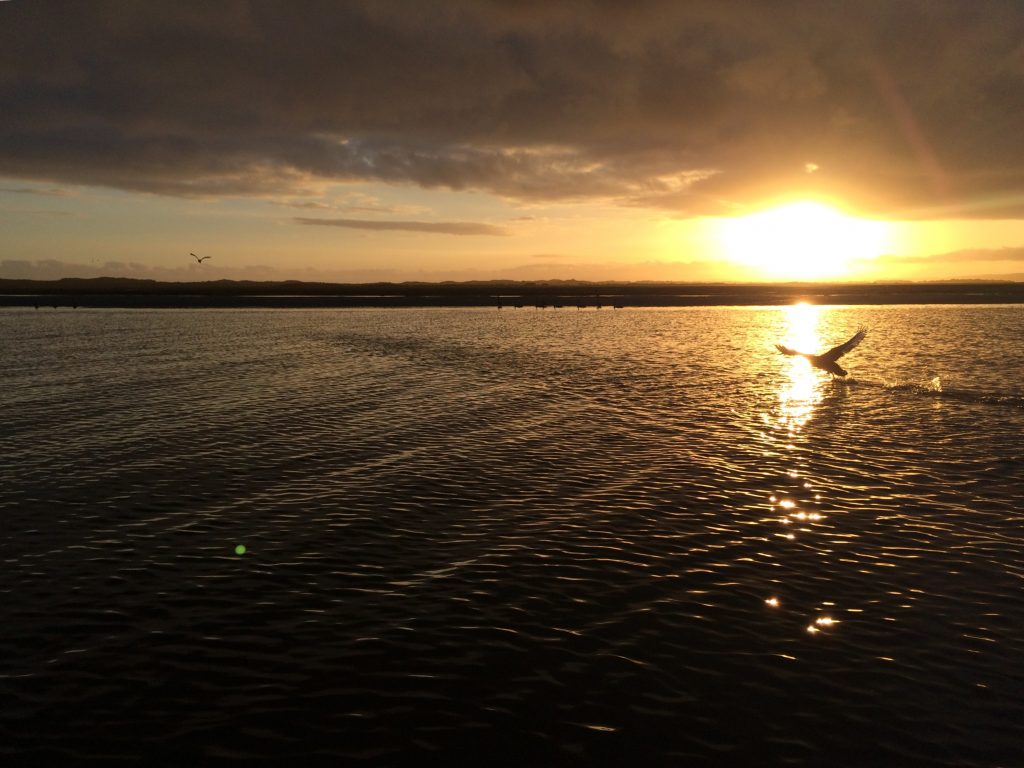 We're locked down, so it's not easy to kayak, even masked and nobody nearby and police approved (the divvy van passed and we waved and they waved). We had agreed, Cathy and I, that if anybody was about we would go home. Ready not to go, we went. Inexperienced middle-aged idiots shouldn't get out on the ocean except when it's very calm here and the only place we can launch is the Erskine River, a few hundred metres from our door.
So we set off. Our first launch on a bright day and two hours of regulation exercise to spend. Tense with one another, dealing carefully with the non-theoretical mass of them on the roof, using blanket on each car and straps. We drove around the corner and over the speed bumps by the empty caravan park gingerly. We packed goods into a waterproof bag. Each kayak has a trolley you strap on one end; it is 35 kilos. One has to stand in the car doorway to reach and grab an inset handle slide the kayak down to the other without losing control. All masked and wetsuited in the unexpected sun. You strap the wheels on one end then heave and trolley to the water. We agreed to do our own on our own. We did it.
On the empty water, we discovered we had one thing wrong and the instructions had one thing wrong. We paddled out carefully then back in to fix the rudders and seats. We agreed on how we might set up and we scoured the beach and shallow water for the split pin from Cathy's rudder, then put a keyring on her rudder, a much better solution than a pin, reclipped the lumbar support of our seats, strapped them taut, set off again.
Paddling is as difficult as you want to make near the Erskine mouth. There was a wind and there was a current, neither as strong as it gets. Tanin water. Bream territory. Dry reeds and what Cathy calls "fake mangrove". We went up, we went down—not too close to the beach—discovering how it felt to paddle as hard as, that if you just stopped paddling, you could glide silently observing cormorant and duck and wren, looking out for fish and rocks and likely snags where the bream might take a fly in predawn summer, under the clear heavens and beside the odd boardwalk runner or dog walker. We still felt guilty that this might not be proper lockdown behaviour, that this was what city people cannot do in these circumstances. We are up to the stage of locking down where everyone ought to have an idea of what is safe and not—ought to—I still see the looks in people's eyes when I'm running and puffing, mask-less, though generally I do my best to cross the street or turn a corner. We are good. We get tested. We are fully vaccinated.
We learned you should stick with your companion. We learned rowing backwards to turn. I crashed into three things. We splashed one another, a skill needing much more practice. I thought about bailing tools and upper body strength. This is not excercise that will easily puff you out, but it is the whole body and the whole mind you involve when you row. It's always been a notion, that I might regularly exercise this way. (Once I got my son a rowing machine to help him recover from his adenoid-induced apnoea, knowing it was my own idea of exercise.) We do have many more things to improve about our kayaking routine and perhaps we need a checklist for boating, like my father-in-law, because when you go on the water the feeling of surrender to a larger power only comes with careful and clean preparation, maintenance habits, weather watching, and good practise. Never disrespect the sea gods.
I don't think we'll be going out on Loutit Bay until we have ourselves better prepared with the right lifejackets and perhaps an electric motor as well —purely for safety, mind—and a study of tides and currents and a final move to Gippsland are defiinitely in order, because it can be quiet here on the Great Ocean Road but it's the shoals of Corner and Shallow Inlets, with whiting scales there the glittering shades of the sand and flathead skin like the spotted rich mud, that I'm imagining pretty much daily, and fear only rationally, and know. So it will be a while before we reach peak kayak. Before we feed ourselves with a handful of shells. This won't be the last time I'll be writing about it.
Didn't seem like we had done that much exercise, but by the end of our stint, tying craft to car roof, I ran into headfirst into the stern. That's what we call chop-your-leg-off-o'clock. We drove carefully back to our temporary home and unloaded carefully beneath the carefree flights of randy bowerbirds.
Today I'm a bit sore. Good sore. We learned a lot. And we did it without killing ourselves, or one another. Good sore.