So I've Been Delinquent – Indubitably!
Well yes, we did get married.  I haven't posted for so long it seems that this website has been forgotten.  In fact I've grown a little allergic to this whole business of publishing on line because of a couple of site invasions by phishers.  Wordpress has almost been ditched; I've had a go at the security and gotten rid of the unwieldy – and so, risky – Leftwrites.  But I suspect that it will only slow the attackers….  Had a word (several) to the service provider, who don't notify you if you have trouble, though they have services that do that for them.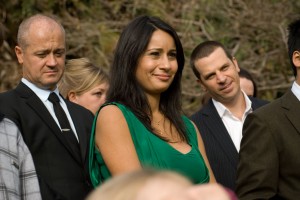 Ant, Fiona, Suzie and Tom.
But enough grumbling.  Life is good and so is the weather.  The novel is still not published but we will go into that during this year, and the next novel as well.
The fishing is not too bad, there are, as usual, far too many things going on to report adequately.  There is a dog:
Already far bigger than this.  There was Mia's visit, Tim's come to work at DIIRD and Xmas and all that.  Phew.  I'll add more details later.
Video of Mia, Natalie, Oscar and baby Teddyboy! (Needs Real Player or similar to play.) Mia, Natalie, Oscar and Baby Teddy Boy (VideoLAN Version)